A 3-in-1 Powerful Suite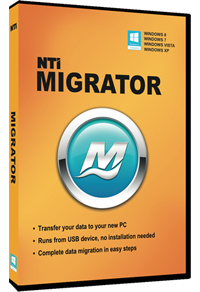 MIGRATION
NTI Migrator is an easy-to-use software for migrating your data from one PC to another. Let us help you transfer your documents, music, pictures, videos, Internet favorites, email, and settings from your old PC to your new PC. It runs directly from your USB storage device to make your transition to a new PC smooth and easy. For Windows 8.1/8/7/Vista/XP
DATA ENCRYPTION
NTI Ninja is an exciting software that maximizes data protection by using a driver level 256-bit AES encryption technology to create private and public partitions on USB storage devices. Safeguards your data from theft and unwanted access while keeping common data fully sharable and portable. Great for students, business road warriors, and all users of USB drives. Perfect for protecting homework, confidential reports, journals, financial information, or even those treasured photos from Las Vegas! For Windows 8/7/Vista/XP SP3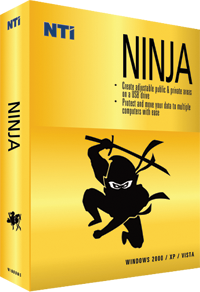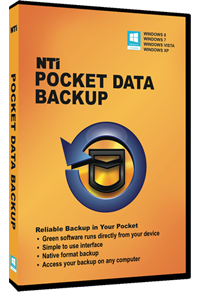 DATA BACKUP
Your Backup In Your Pocket! Pocket Data Backup runs from the USB Flash Drive and backs up your pictures, videos, music, documents, email, and Internet files to your USB Flash Drive for safekeeping. Then every time you plug in the USB Flash Drive into your computer, new and changed files are automatically backed up. No need to worry about schedules or manually running the program to run the backup. It just automatically backs it up for you. For Windows 8/7/Vista/XP SP3
BONUS TRIAL: PERSONAL NETWORK
NTI MiST enables you to create your own secure, personal file-sharing network to provide anywhere-access of shared content on your computer with other computers and mobile devices. View pictures, stream videos, listen to music, upload photos, and share your documents with your smartphones, tablets, and other computers.
Also included as one-month free subscription.