A perfect companion software to extend your PC's capabilities.
Media Maker Express supports Windows XP, Vista, 7, 8 and fully supports latest Windows 8.1 version!
New Look and Features
Our new one-click Launch Pad in Media Maker 9 makes it even easier to navigate to a desired program within our suite.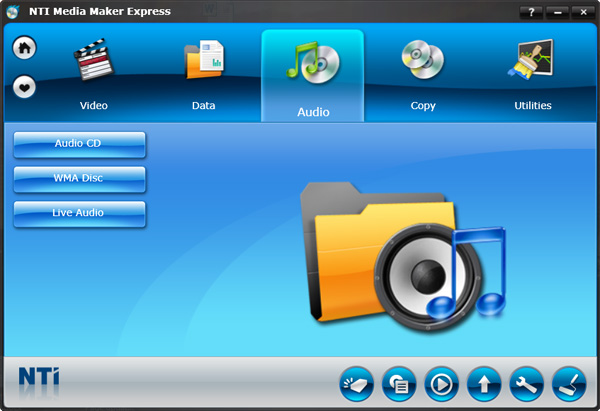 Language available:
English, French, German, Japanese, Simplified Chinese, Spanish, Traditional Chinese
Key Features & Benefits
What's New
Features:
New One-Touch launch pad for quick application navigation

Added Favorites selection to the launch pad
Added ability to customize the color of the launch pad

Enhanced Disc Image and UDF support
Media Maker Express's Feature Set

Video
VIDEO_TS
Burn your favorite movies to a dual layer or single layer DVDs from your VIDEO_TS folders on your hard drive. You can burn DVDs of your favorite movies from your VIDEO_TS folders to enjoy on your TV.
Music
Audio CD
Create an audio CD with your favorite songs! Use CD-Text to label your songs and normalization to keep all songs at the same volume level for a consistent listening experience. Also, give your CD the professional DJ feel by using the crossfade feature to fade out one song and fade in the next song at the same time.
WMA Disc
Create a WMA CD or DVD from your music collection. You can now sit back and enjoy hours of continuous music from your CD or DVD player.
Live Audio
Record audio directly to a recordable disc or to a hard drive from your microphone or line-in jack. Live Audio is a great way to record a message or to copy your old albums and cassette tapes to your computer.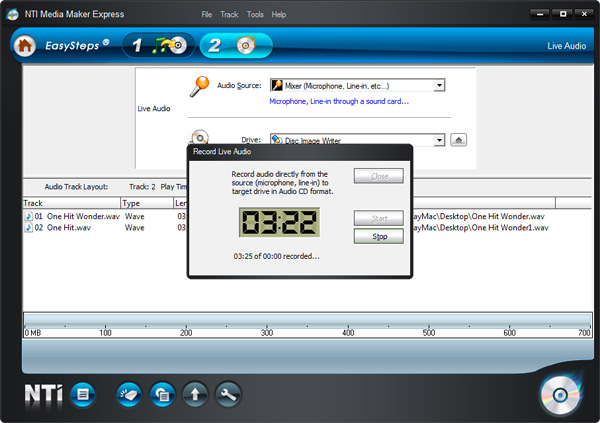 Copy
Copy
Fast and reliable copying of CD & DVD discs, our copy will make an exact replica of your favorite disc as fast as your drive allows. Copy also allows you copy to different media types. A perfect solution when you need to make a copy and don't have the exact media type.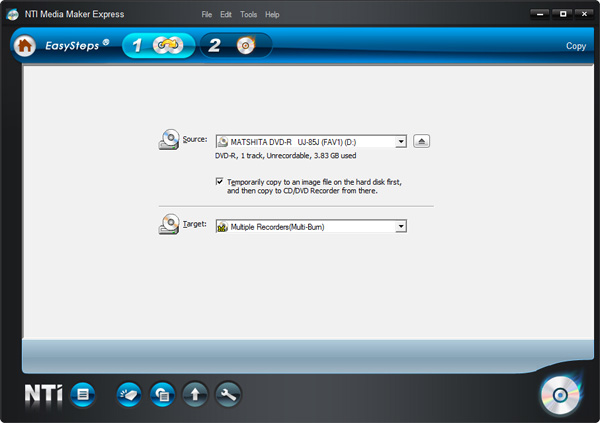 Data
Multi-Burning Engine
Even with over 20 years of burning experience, NTI's latest burning engine is yet more powerful than ever. Turn your computer into a mini fast duplicator by burning to multiple recorders at the same time. Great for making multiple copies of the same disc in a snap!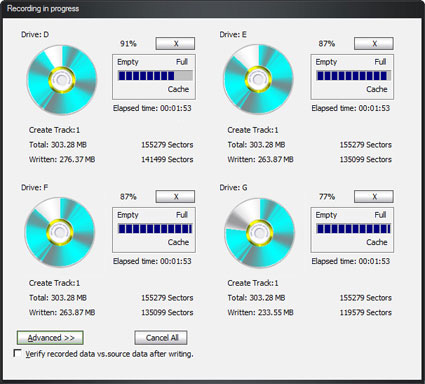 Data Disc
Archive or backup your data to a CD, or DVD disc as easy as possible with Data Disc. Save yourself the time from having to select a specific amount of data without going over the size limit of the disc. Just drag-n-drop the data you want to burn and Data Disc will automatically span discs and prompt you for additional discs to burn all your data.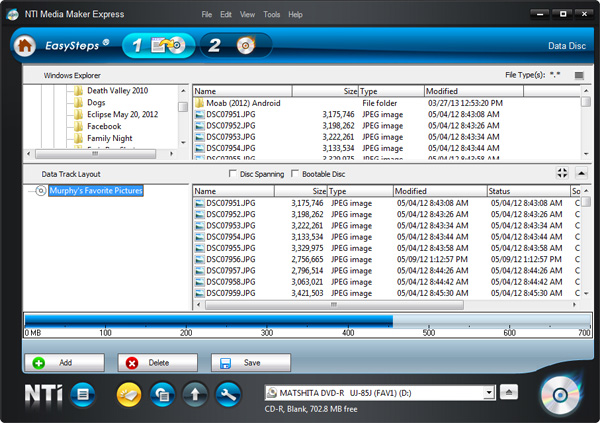 Utilities
Session Explorer
This disc utility allows you to explore data sessions on a CD or DVD and to copy the data off the disc. This is great for recovering lost data on damaged discs.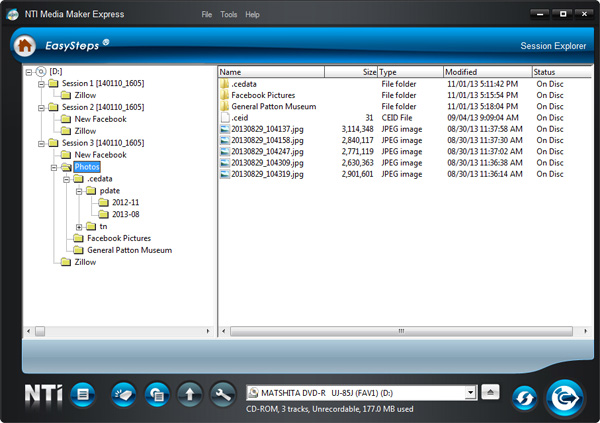 Disc Info & Tools
This utility gives you disc information about your optical media. The tools at the bottom allow you to Read and Compare data tracks. Erase, Recover, read CD-Text on the disc and to Close a Data Session.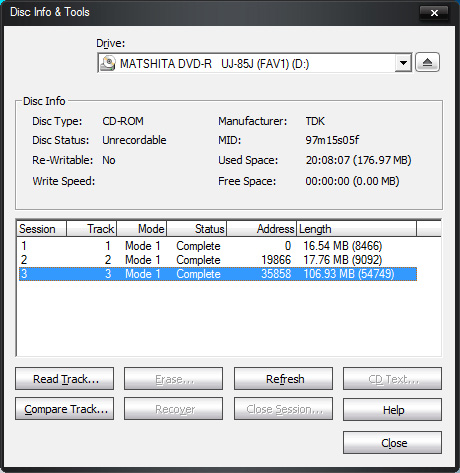 System Requirements
Hardware Requirements
500MB of available free disc space for software installation
10GB working space for copying or creating DVD discs.
Software Requirements
Windows® 10, 8.1 / 8 / 7, Vista or XP SP3
Windows Media Player 11 or higher and Microsoft .NET Framework 3.0 or higher are required for XP SP3
Peter Kaufman, Southwest Computer Users Group (SWCUG)
"MM8 is a full featured CD and DVD authoring program and a complete listing is extensive"
http://computershopper.com/reviews/nti-media-maker-8-review
"NTI Media Maker 8 has the easiest and most consistent user interface"
Computer News Magazine, May 2008
"Impressive", "NTI Media Maker 8 is a great media maker application"
Computer Times -
"It is perfect for all your recording needs. Whether you're storing data files, organizing digital photos, creating a video library or enhancing your music collection, NTI CD-Maker™ 6 makes burning your own CDs and DVDs as easy as saving a file."
PC Magazine - John C. Dvorak
"I was pleasantly surprised to stumble across the highly regarded NTI CD-Maker, from NTI. The new Professional Edition is a superbly elegant system that simplifies the process of CD creation and duplication to an extreme. This software is close to perfection."
PC World
"CD-Maker's user-friendly interface, however, is a major plus for beginners and for people who don't want to click through multiple screens to get the job done."
Smart Computing
"Burning CDs is as easy as ripping. Just drag audio tracks from the upper-right pane to the playlist pane below and click Step 2. CD-Maker 2000 has some default settings that actually decide what's best for the CD you're burning."
ZDNET's Reviewers' Raves
"NTI CD-Maker 2000 is an excellent, top-of-the-line CD-burning program that can just about do it all."
Yippee.net Top Download!
"NTI CD-Maker is a very wicked CD Burning program, packed with more features than we've ever seen before!"
eMedia Review
"NTI's CD-Maker 2000 succeeds in bringing simplicity to the increasingly complex realm of CD recording software."
Five Star Review - Editor's Choice Award!
"CD-Maker 2000 touts some pretty unique features we found that separate it from the crowd."
Slaughterhouse.com Pick of the Day!
"All of the basic functions as well as many other more advanced ones are fully supported by NTI CD-Maker 2000 and as a result makes it the only CD burner software you'll ever need no matter what you're trying to do."
WindowWatch.com
"If you are looking for a package that works well under W2K for burning CD-Rs in various formats (data, music, combination), I would suggest that you give the CD-Maker 2000 software full consideration. It's easy to use, fast and flexible."
CDRWCentral.com
"CD-Maker 2000 has loads of features. From making Audio CD's to Custom CD's. The user interface is easy to use as well."
Browsertime.com
"CD-Maker 2000 is a thousand times better than the original CD copying software that was factory installed in our name brand system. CD-Maker 2000 has a simple user friendly interface and packs a powerful punch."
AlamoPC.org
"This software program possesses great strength and is moderately priced. First, it is potent and versatile, providing the inexperienced user or the expert with an array of options and alternatives in how they choose to record CD. Second, there are significant varieties of CD recording methods available in this program. Third, but perhaps most importantly, the user interface is uncomplicated and the help section is easy to understand. "
Hear What Others Are Saying
"The arrangement is easy to work with, yet doesn't get in the way of users who know what they're doing."
Jon L. Jacobi, PCWorld. (September 9, 2011)
"Now offering support for Blu-ray movie discs, NTI Media Maker 9 Ultimate HD Edition is arguably the easiest to use among the four media-creation packages (NTI, CyberLink, Nero, and Roxio)."
Jon L. Jacobi, PCWorld. (September 9, 2011)
"Dearest NTI:
I am sending this e-mail to compliment you on the excellence of the TRIAL version of the above... I shall be purchasing same as soon as I have deposited funds with my bank. I congratulate you on making the trial fully functional albeit for a limited number of uses - several times I have been beguiled by Crippleware promising the earth "upon purchase" and failing to deliver.
I am a highly dissatisfied user of [two other burning software products] both of which defy functional installation of all modules and which crash my PC on an hourly basis! In both cases their Technical Support blamed my CD and DVD writers after minimal feedback!! And in both cases I bought the product because the OEM versions had promise and WERE SUPPLIED with my writers!!!!
Keep up the good work.
Kindest regards"
Larry Privett, UK
"I just wanted to drop you guys a note. My first CD-R was a Memorex that came with the NTI CD Maker software, which I was very satisfied with. Then, I purchased an HP writer, which unfortunately came with other CD writing software. Since then, I've looked around for other CD-Burning software which could compare with NTI CD Maker and have found none. Thanks, and keep up the great work!"
Chris F., Rosemount, MN
"Thank you for such a great product! I've already bought the software and it happens to be the best software for burning CD's in the market."
Alejandro I., Yuba City, CA
"I bought a CD-RW and it came with NTI CD-Maker. I was impressed with the many features offered by your program. I went to your web site and it was then I found the MP3 support. I can't wait to use the MP3 features! Then, what a nice surprise to get an email from a company that cares about the consumer, and offers cutting edge technology."
George S., Chicago, IL
"I've been a real fan of NTI's software since I received NTI CD-Maker bundled with my drive. Easy to use, intuitive, feature rich, and reliable - good support too."
John M., Columbia, SC