Back up photos, music, videos, and documents to any of your local or network drives.
NTI Shadow is an award-winning, easy-to-use backup solution that enables real-time backups of your multimedia files, office documents, internet files, e-mails and more to your internal or external storage devices. You can also schedule your backups to run hourly, weekly, or monthly for internal, external, or network storage devices. Shadow 5 has now been upgraded to a 64-bit native application with improved backup performance and many more advanced new features.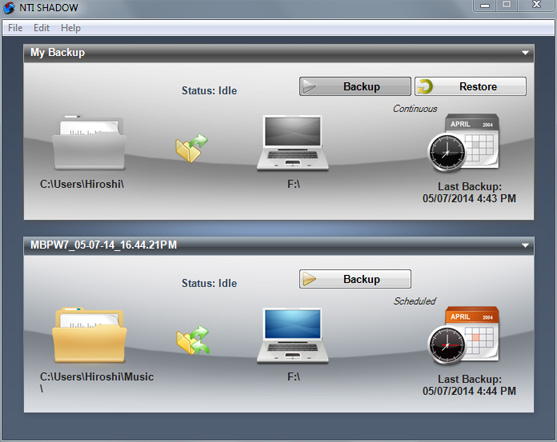 What's New in Shadow 5:
64-bit - Shadow 5 is a native 64-bit application
Merge Folders - You can merge the contents of two existing folders and Shadow will keep both folders updated with all the changes made automatically
Shadow Agent - Makes it easy for you to access and back up files to and from other computers on the same network
Enhanced File Filtering - Just select the ones you want and Shadow 5 will search your entire computer and back up the specified file types.
Smart email backup - Your Outlook.pst files are now handled intelligently for faster, more efficient backups
Go wireless - quickly establish an Ad-hoc connection between two PCs using Wi-Fi
Language available:
English, Simplified Chinese, Traditional Chinese, German, French, Spanish
Key Features & Benefits
NTI Shadow makes it easy for you to back up, synchronize, share, and save valuable data, photos, videos, and music files to any designated drive of your choice. The latest version, Shadow 5, has several new features including: improved data synchronization, Ad-hoc networking, an enhanced file filtering to help locate hard to find files, and much more.
One-Way Shadow
One-Way Shadow initially copies the selected source files and folders to the destination and copies any changes made to the source thereafter.

Two-Way Shadow
Similar to One-Way Shadow, the source is initially copied to the destination then any new and updated changes in the source will be reflected in the destination. However in Two-Way Shadow, any new and updated changes in the destination will also be reflected in the source.

Merge Folders
Merge Folders will initially combine the contents of the source and target folder and monitor both source and target for any changes. Any changes made in one folder will be reflected in the other.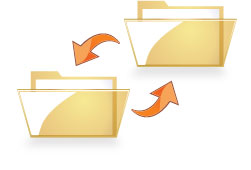 Native File Format Backup
Shadow preserves the files in their native format – meaning no additional software is necessary to restore files. It makes data restoring as easy as dragging and dropping files from one place to another.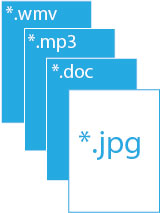 Smart email Backup
Outlook.pst files are handled intelligently so that only the changes are saved, reducing the time and space required for the backup.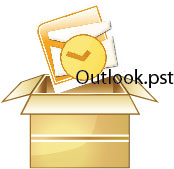 Flexible Backup Scheduling
Continuous – Back up your folders and files every time a change occurs, assuring files are always in sync.
Interval – Schedule your backups per minute, per hour, or daily.
Scheduled – Select the days of the week and time to start your backup job.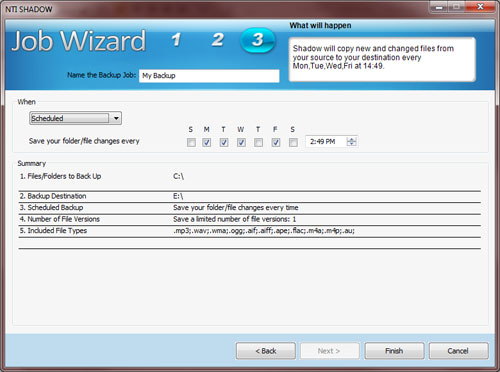 File Versioning
Shadow is able to retain older versions of your files for those times you need to undo saved changes. It allows you to revert back to previous saved version of the file in just a few seconds.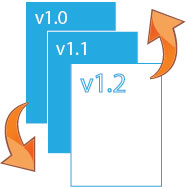 Easy File Selection
The most commonly used files are predefined into Multimedia, Office and Productivity, Internet and Others for a quick and easy selection process. Just select the ones you want and Shadow will search your entire computer and back up the specified file types.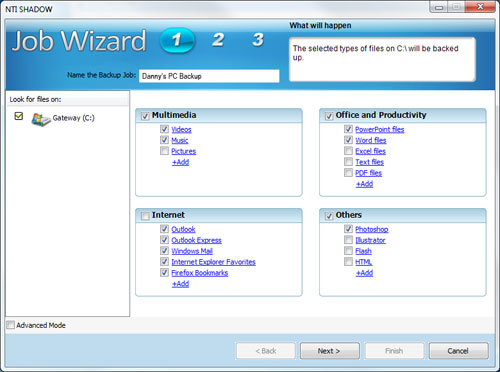 Networking Capabilities
Shadow Agent helps detect and access files on other computers on the same network.
Easy wireless ad-hoc setup allows a direct PC-to-PC connection
Quick Restore Feature
Quickly select the data you want to restore from the backup destination and restore the data either to the original location or to an alternate location.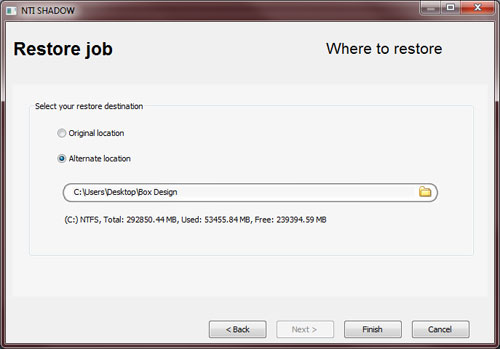 Convenient Options Offer Additional Controls
Auto Deletion On/Off - automatically deletes files on your backup destination when the source files are deleted on your PC.
Retain Full Path – backs up the full path of your data, instead of just backing up the individual file or folder.
Capacity Alert -Shadow can alert you when the remaining free space on your storage device becomes low giving you ample time to free up space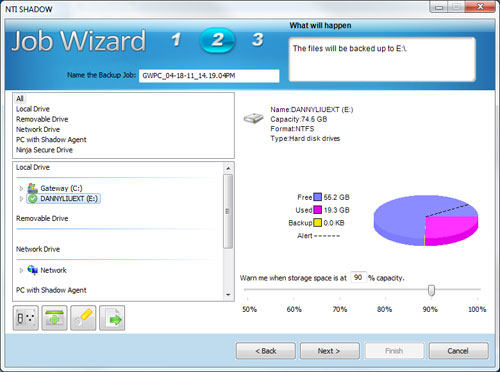 Advanced File Type and Custom File Type Filtering
Include or exclude specific file types or formats from predefined groups, or add specific file type extension.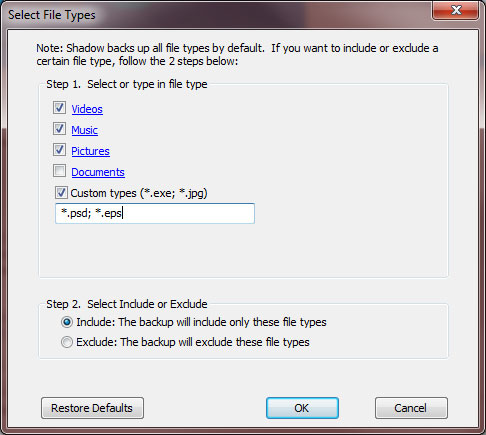 Intelligent USB Device Detection™
Automatically detects and identifies the USB storage devices associated with the backup job.