A Smarter Way to Connect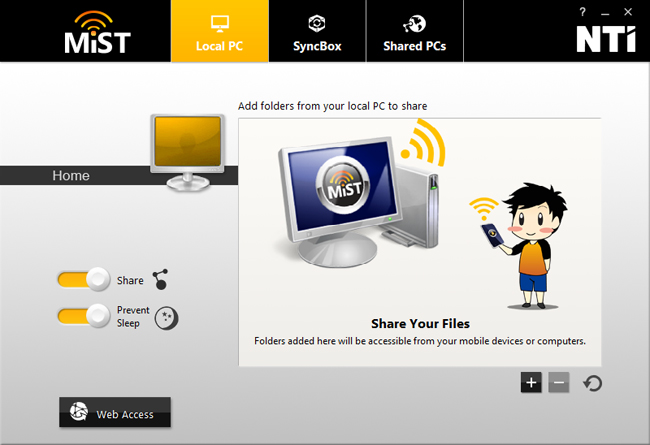 What is MiST?
NTI MiST enables you to create your own secure, personal file-sharing network to provide anywhere-access of shared content on your computer with other computers and mobile devices.
View pictures, stream videos, listen to music, upload photos, and share your documents with your smartphones, tablets, and other computers. With MiST there is no need spending time uploading files to an online public cloud storage, worrying about who may access your files or wondering if there's enough space left on your public cloud storage.
Questions about MiST
Q: How is MiST different from other cloud solutions currently available?
A:
Other cloud services gives you limited online storage space requiring you to pay for more storage as your needs grow. MiST uses the storage space already available on your computer and offering the security of your data being in your own hands.
Q: Can I use MiST to transfer files from one computer to another.
A:
Absolutely. You can install MiST on multiple computers and automatically sync folders between the computers or manually copy files between computers.
Q: Are my files stored online?
A:
Only files that are synced are stored online to allow for efficient syncing between computers. All other files stay on your own computer and are never stored online.
Q: Can I stream music and video to my smartphone or tablet?
A:
Yes. Install MiST onto the computer that has your music, video, and photos and have instant access from your iOS or Android device.
Q: Can I copy my photos from my smartphone to my computer?
A:
MiST on your iOS and Android devices can be configured to automatically upload photos and videos you take. You can also manually upload only select photos and videos.
Q: Do I need a MiST license for all my computers?
A:
No. You only need a license for computers from which you want to share or sync files. You can access your files from an iOS or Android device or with any web browser without requiring any additional licenses.
Available for:
Windows, Mac OS X (10.7 or newer), iOS, and Android operating systems.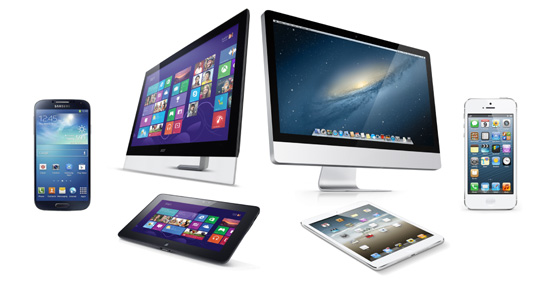 Key Features & Benefits
STAY CONNECTED
By having multiple MiST connected computers, you can easily access your files on any of those computers. Access your work files from home or share between friends and family's computers, MiST is the smarter way to stay connected.
WORK TOGETHER
With the help of NTI Cloud, included with MiST, you can synchronize files and folders across multiple MiST connected computers. Collaborate on school reports, family trees, and work projects where everyone can work on the most up-to-date file. The files you have on your computer is the exact same file that is on the other computers.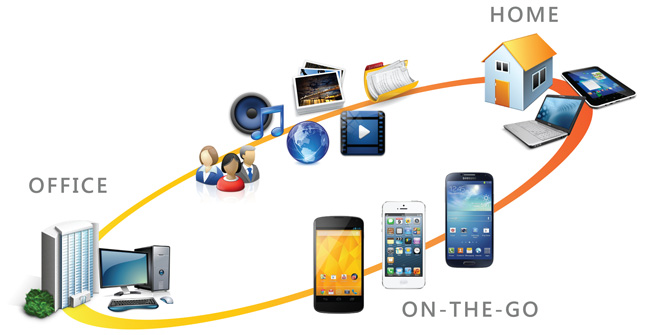 ACCESS ANYWHERE
You don't need to have MiST installed to access MiST connected computers. Windows, OS X, iOS, Android, Linux, Windows Phone... If it has a web browser and an Internet connection you have access to your MiST connected computers.
SHARE AND ENJOY
Easily access the thousands of photos, music, and videos you have on your MiST connected computers. Since mobile phones and tablets have limited storage capacities you may not be able to carry all those files with you on your phone. Just log in to your MiST account and view the photos, stream videos, and listen to music with your friends and family.
PEACE OF MIND
In today's digital age, you need to take steps to try and keep your data from prying eyes and the best way is to keep it on your own computer. With MiST, your data stays on your computer, not in a massive data center where you don't know who may have access to your data.
EXPANDED MEDIA LIBRARY
Mobile Phones and Tablets have limited storage capacities. You always have your mobile phone with you and sooner than you would have liked, you've filled it up with hundreds of photos and videos. With MiST, your home computer becomes an extension of your mobile phone. Upload photos you have on your mobile phone to your MiST connected computer to free up space on your phone, and you're ready to take more photos.
PROTECT YOUR MEMORIES
With Automatic Camera Upload, you never have to worry about losing a photo you've taken with your mobile device. Just set up Automatic Camera Upload in MiST and the next time you take a photo or video, it will be automatically uploaded to your MiST connected computer.
DRAG, DROP, DONE
Accessing your shared files between your MiST connected computers is made even easier with drive letter access. Remote shared files can be accessed by a drive letter and by drag-and-drop operations with Windows Explorer as if they were residing on your local computer.
Editions & Pricing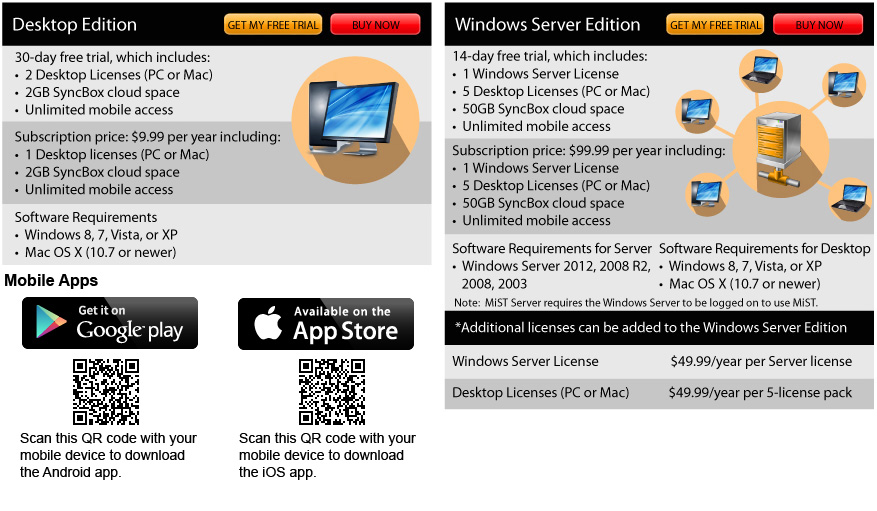 Product Documentation / User Manuals
Hear What Others Are Saying