NTI Free Trial Download
Important email notice!
You must make sure the email address you provided is correct before clicking on the submit button to complete your trial download. If you use email spam filters, please add
noreply@e.NTICorp.com
and
noreply@NTICorp.net
to your Address Book or 'Safe Senders' list before pressing the Submit button.
( Mandatory fields)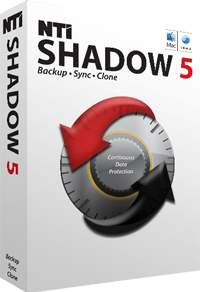 NTI
Shadow 5 for Mac
Back up, synchronize, and clone all of your data and partitions. What's New:
Volume Cloning - make an exact, even bootable, copy of your hard disk partition
Folder Merging - combine and synchronize the contents of two folders
Mini Status - small unobtrusive window to keep track of your backups
New Look and Feel - new look and new way to select files for backup
Update to the Latest NTI Version
If you already own a NTI product, you may download the latest version from the lists below. Take advantage of the latest features and very best in Backup and CD DVD Burning Software right now, for free.
NTI Software
Product Documentation / User Manuals
Software Documentation
Product documentation is available for all NTI products listed below.
To obtain documentation for your product:
Search for your product in the list below.
Click on the desired language.
Your download will automatically begin.
NTI Software